So many of us equestrians have been in conversations with a skeptical and bombastic uncle that assures us that "horses do all the work". I don't even engage these people anymore as most of them introduce the topic with a smile on their lips and watch for a theatrical reaction (nice try, you are talking to the person who after hours on hold with customer support will still use "sir", "ma'am", and "please").
It does bring into the forefront why we treat horseback riding as a sport, and also why it even matters how it is defined.
There are two main ingredients to the definition of sport – skill and physical exertion. Skill is less arguable. Because my general practice is to keep my passion for horseback riding quiet around new acquaintances, I've managed to shy away from stories of disastrous trial rides on family vacations. But most are willing to acknowledge that they could not imagine taking the quarter horse they rode in the Rocky Mountains over a course of 1.60m jumps. Skill brings tact, and both are necessary inputs.
Skill is undeniable. But physical exertion remains a question mark.
I don't know about you guys, but a day spent at the barn leaves me feeling tired. When I owned my horse, I did everything myself. Turnout, tack, cleaning, grooming, feeding, picking stalls, etc. The work does not stop there, once you swing your leg over the saddle, it is pressure, release, softness while strong. Most people recognize the effort involved in dancing with a 1,000 lbs+ animal.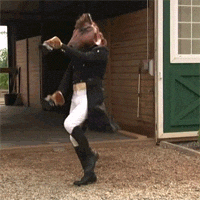 Playing devil's advocate, when watching a cross-country course for instance, the horses physical feats are very clear to an uneducated eye. Foaming, sweat, leaping over obstacles. What is not present to these new observers is the rider's fitness. Let me say, their stamina is no joke.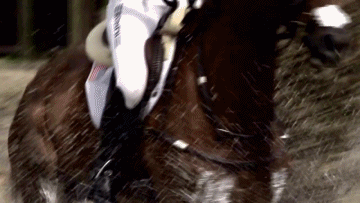 Not shockingly, I claim we check boxes of skill and physical exertion (and danger, which may bump it up from a hobby level as well).
Why does it matter? Who cares if it is not a sport? Whether we qualify horseback riding as a sport may be phrased as whether what we do is worth-while.
Often my "is horseback riding a sport" or "does it belong it the Olympics" will eventually boil down to us explaining why we our commitment meets the minimum threshold of worthiness in the eyes of others. Equestrians dedicate hours to bettering ourselves and advancing in our passion, and it invalidates our time by dismissing what we do as "not even a sport".
There is a lot of sleep to be lost if you worry about the opinions of naysayers. I don't allow those dissenting thoughts to affect what I love and how I spend my time, but as we advance this sport, it may be a valuable to consider the barriers we face in the general audiences.
Why do you categorize horseback riding as a sport? Or, better yet, why do you not?